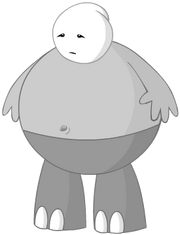 This page is for Strong Sad from ANY person's continuity.
Basic Infomation
Edit
Strong Sad is the youngest of The Brothers Strong. He often gets abused by his older brothers, Strong Bad and Strong Mad. He is often soft-spoken and calm. His main trait was his depression, which overshadowed his high levels of creativity and intelligence. Lately, he appears to have recovered and rarely expresses sadness. He has great penmanship and writes poetry. He is also ambidextrous. His interests include but not limited to writing, crafts, arts, spending time alone and listening to music. He often spends most of his time alone in his room. He doesn't have many friends and his best friends appear to be Homsar and Marzipan. He was born in October 6, 1979. He is 30 years old. He likes poetry, being with his friends. His friends are Homeschool Winner, Homsar, Marzipan and the Cheat. His enemies are Strong Bad and Strong Mad. He might have a small crush on Marzipan.
(coming soon)
Ad blocker interference detected!
Wikia is a free-to-use site that makes money from advertising. We have a modified experience for viewers using ad blockers

Wikia is not accessible if you've made further modifications. Remove the custom ad blocker rule(s) and the page will load as expected.