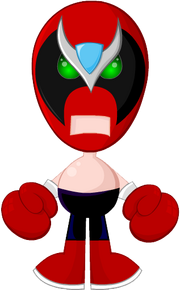 This page is for Strong Bad from ANY person's continuity.
Name: Strong Bad
Birthday: June 18, 1975
Age: 34
Gender: Male
Likes: His Lappy 486, girls, attention
Friends: The Cheat, Strong Mad, Bubs, Homestar Runner
Enemies: Homestar Runner
Love interest: N/A
Fun Fact: Strong Bad's son is Star Bad.
Basic Infomation
Edit
Strong Bad is the middle child of The Brothers Strong.
nothing.