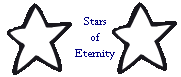 Stars of Eternity is a story about how Tallshort met Starteen.
Role Play (The Story)
Edit
Tallshort: Homestar what will we do today?
Homestar: Don't ask me!
Tallshort: I want to exercise my Star/sun powers.
Homestar: Go ahead.
(Strong Glad walks in)
Strong Glad: Hey Homestar! Strong Bad wants to see you, he has something special for you! *snickers*
Strong Death: He he he!
Strong Glad: Get outta here Death!
Strong Bad: Let him stay so we can destroy Homestar quicker.
Strong Glad: Alright, cousin!
Tallshort: You can't kill Homestar.
Strong Glad: Yes, we can! Strong Sad willed himself to death last Halloween! (See Most in the Graveyard)
(Starteen walks in)
Starteen: Whats going on Strong Glad? *thinking* Strong Sad willed himself to death?
Tallshort: Who are you? *has a crush on her* (I saw MitG)
Starteen: I'm Starteen, Strong Glad's best friend. I just on my way to The Brothers Strong's house to hang out with... *gets hearts in her eyes*...Strong Sad.